Thanks for visiting us, and we're glad you're interested in being a part of Mulder Missers Anonymous. There's no mailing list, no site updates, no obligation whatsoever, just the graphic below to unite folks who wax nostalgic for the one, the only, Special Agent Fox Mulder.
If you're grabbing the MMA graphic for your own web site, huzzah! Just download the image below, and link it (or provide a link) to this page (http://badcrack.scriptmania.com/mma.html).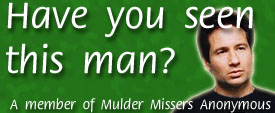 Because the point of the MMA is for us all to learn that we are not alone, please visit our guestbook and leave your name and a brief message. Though it's completely optional, we'd like to keep track of who joins our little ... cult? Group? Cabal? Junta? Well, something.
Missing Mulder is a noble pursuit. Glad to have you along. We understand about the politics. We understand about the contracts, the court settlement, the acrimony.
We don't care. We just want Mulder, and by proudly displaying this little graphic on your site, you can show that you do, too.
Any comments? Please let us know. Again, thanks for stopping by, and have a great day.
Sincerely,
EPurSeMouve and JHJ Armstrong
Purveyors of Bad Crack, and Missers of Mulder